NHS Trusts /

Healthcare Retail /

01.12.2017
Hot off the press Chop Chop Hot Pots
We are really excited to be launching a new range of meal options for our clients and their customers.
Based on recent high street trends for single pot meal solutions and the popularity of hot food to go Compass Group UK and Ireland has developed a range of Hot Pot Meals for its Chop Chop range. 
This range can offer multiple solutions for contracts including Hold Hold and ready to serve options for contracts with periods of peak demand and time poor consumers.
Also, our Hot Pots have the unique option of being available as a chilled retail product that can be cooked on demand or taken away and cooked later.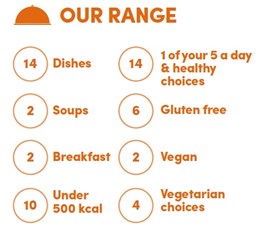 The Hot Pots cook using our exclusive steam cooking valve which means we can use a combination of fresh and cooked ingredients and the end product retains more goodness and texture than traditional meals.
Following a successful pilot, the range in now available and rolling out to Compass contracts this month. So if your site has an issue with queuing, demand for out of hours' hot food or a challenge of extending the availability of hot food then this could be the solution for you!